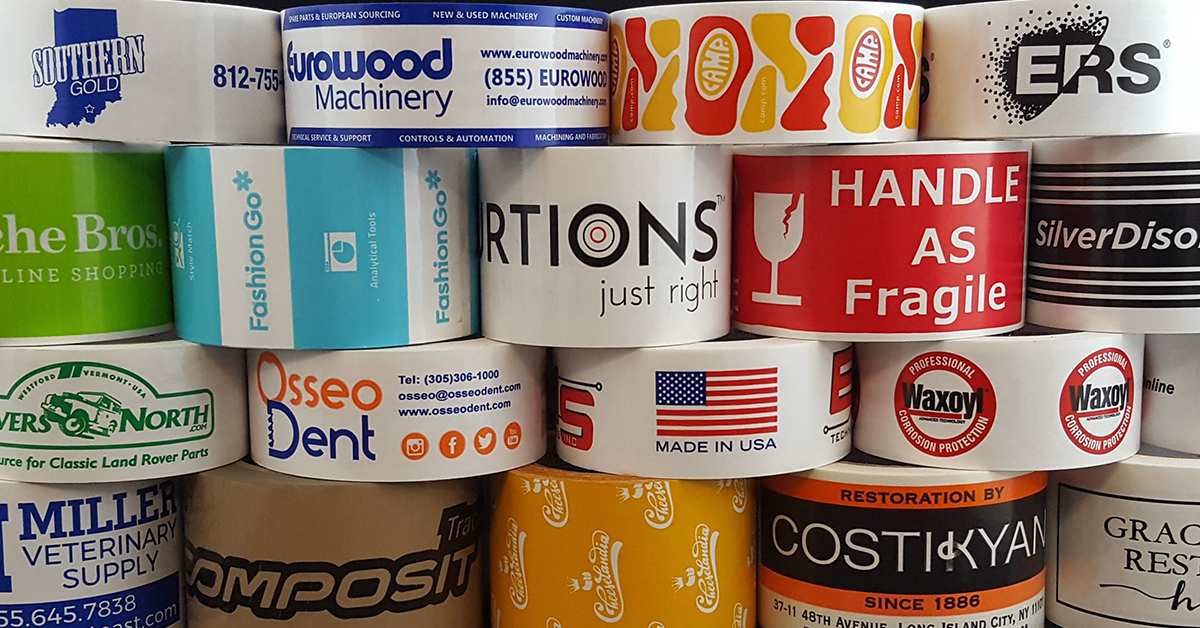 Custom packing tape is one of the most economical ways to boost customer loyalty, increase brand visibility, and add security and handling instructions to your packages. It can even make for an unforgettable unboxing experience to connect and engage with your audience in this age of online ordering and home deliveries.
If you're purchasing custom packing tape for the first time, we've created this helpful buyers' guide to ensure the process is a breeze. Follow five easy steps to order on our website – and begin distinguishing your package from the rest while making your customers smile.
Step 1: Choose a tape
Step 2: Select desired customizations
Step 3: Refine the design and upload the art file
Step 4: Review and approve the design proof
Step 5: Prepare for delivery
Keep reading to learn more about these five simple steps to buying custom packing tape.
Step 1: Choose a tape
There are many kinds of custom packing tape, each with a unique set of features, benefits, and uses. Browse this quick guide to choosing a tape to select the best option for your needs. You can learn more details about these options on our website.
Most popular custom packing tape
Economical
Excellent printability
Varying thicknesses to accommodate different package weights
Thick and strong to accommodate large items and heavy supplies
Bonds to many surfaces
Quiet roll release
Easy to manage
Water-activated using a paper tape dispenser
Eco-friendly
Sticks to new or recycled cardboard and dusty surfaces
Forms a permanent bond
Designed for cold storage applications
20°F application temperature minimum
Maintains adhesion in temperatures as low as -15°F
Suited for masking, edging, binding, or splicing
Stronger than masking tape
Leaves little or no residue behind
Utility-grade strapping tape
Creates a long-lasting bond for bundling, closing cartons, reinforcing packages, securing cargo, and more
Resists moisture and solvents
Step 2: Select desired customizations
When ordering custom packing tape for the first time, you may be interested in the ways you can customize it to suit your needs. Depending on the tape you choose, you can tailor features, such as:
Thickness – Select a heavy duty or extra-heavy duty tape for heavier packages and standard thickness tape for lighter boxes
Width – Many custom packing tapes allow you to select from 2" or 3" widths
Length – Choose longer lengths for larger shipping volumns and shorter lengths for smaller or less frequent shipments
Tape color – With a range of colors, including white, tan and clear, choose the ideal background to make your logo pop
Number of ink colors – Depending on the type of tape, you can select one-, two-, or three-color designs
Ink colors – Available with PMS matching, our system allows you to choose the best colors to satisfy your brand standards; standard inks available at no extra cost
Step 3: Refine the design and upload the art file
Now that you've selected the type of custom packing tape and customized it for your application and preferences, it's time to review your design. Start with this helpful blog article on branded packing tape design considerations to ensure every aspect of your graphic shines, from the color to the composition. You may also want to check out this resource on the top logo mistakes to avoid.
The general design rules of thumb to follow include:
Simple
Distinct
Versatile
Vector design file format or the highest resolution image available
Easy-to-read font
Complementary color combination
Once your design is ready, you can upload your artwork using our customer-friendly portal. Learn about the design files that are best for custom packing tape in this article.
Step 4: Review and approve the design proof

Once you've placed your order, our art department will begin working on creating a design proof for you to review before we start printing. Within 2-3 days, we'll send a digital file that illustrates how your custom packing tape will look once it's finished. Review this file carefully and notify us of any changes you'd like to see. If it's good to go, you'll approve the design, and the order will proceed to the production phase.
Step 5: Prepare for delivery
Upon your design proof approval, our production department will schedule and produce your custom packing tape order in approximately 3 weeks. Please review the updates to our shipping times for Fall 2020 on our blog for more information.
Whether you're a newbie or a returning customer, ordering custom packing tape is quick and easy. You can complete the entire process on our website, or you're welcome to contact us directly for professional sales and design assistance.